Vinyl Siding
Are you in Connecticut and on the lookout for a reliable and honest Vinyl Siding Contractor? Your search ends here with Fancy House, LLC! We take pride in being a top-notch provider of vinyl siding services, catering to homeowners across the state. With our expertise, we can transform the exterior of your home and make it stand out with stunning vinyl siding options.
Vinyl siding has earned its reputation as the No.1 choice for exterior cladding all over the United States and for good reason. Not only does it offer a visually appealing finish, but it also provides exceptional energy efficiency and durability benefits. When you choose vinyl siding, you're not just enhancing the aesthetics of your home; you're also creating an energy-efficient building envelope that can help you save on heating and cooling costs.
At Fancy House LLC, we understand that every home is unique, so we offer various vinyl siding options to suit your style and preferences. We have covered whether you prefer a classic, traditional look or a modern, contemporary design.
What sets us apart is our commitment to delivering outstanding customer service. When you choose Fancy House LLC as your Vinyl Siding Contractor in CT, you can expect top-notch craftsmanship, attention to detail, and a seamless installation process. Our skilled experts will collaborate closely with you to transform your vision for your home exterior into a tangible reality.
Call today and schedule your free estimate with Fancy House LLC!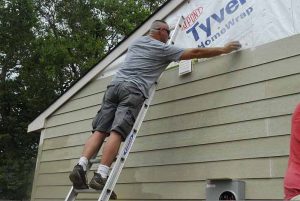 Vinyl Siding Benefits
Due to its numerous benefits, vinyl siding is a popular choice for exterior cladding on homes and buildings. Here are some of the critical advantages of vinyl siding:
Low maintenance
Vinyl siding is virtually maintenance-free. Unlike conventional wood siding, it doesn't necessitate painting, staining, or sealing. Typically, keeping its appealing look can be achieved through routine cleaning using mild detergent and water.
Resilience
The durability of vinyl siding is evident in its ability to withstand various weather conditions, including rain, snow, and UV rays. It does not rot, rust, or warp like other materials, making it an excellent long-term investment.
Cost-effective
Vinyl siding is one of the most affordable siding options available. Its lower upfront cost and minimal maintenance expenses make it a budget-friendly choice for homeowners.
Various colors and styles
By providing a wide array of colors, textures, and styles, vinyl siding gives homeowners the power to choose an appearance that harmonizes with their home's architecture and personal preferences.
Energy efficiency
Insulated vinyl siding options are available, which can improve a home's energy efficiency by reducing heat transfer through the walls. Over time, it has the potential to contribute to reducing heating and cooling expenses.
Easy installation
Vinyl siding is relatively easy and quick to install, which can save on labor costs during the installation process.
Fade resistance
Engineered for excellence, high-quality vinyl siding is designed to resist fading, ensuring its color and appearance endure over time.
Resistant to pests
Unlike wood siding, vinyl does not attract insects or pests, reducing the risk of infestations.
Environmentally friendly
Vinyl siding is recyclable, and some manufacturers use recycled vinyl in their products, making it an eco-friendly option.
Improved curb appeal and home value: With its wide range of design options and attractive appearance, vinyl siding can enhance a home's curb appeal, potentially increasing its resale value.
It's important to note that the quality of vinyl siding can vary depending on the manufacturer and product. Investing in higher-quality vinyl siding can ensure better performance and longevity. Additionally, proper installation by experienced professionals is crucial to achieving the full benefits of vinyl siding.
Check our other services: